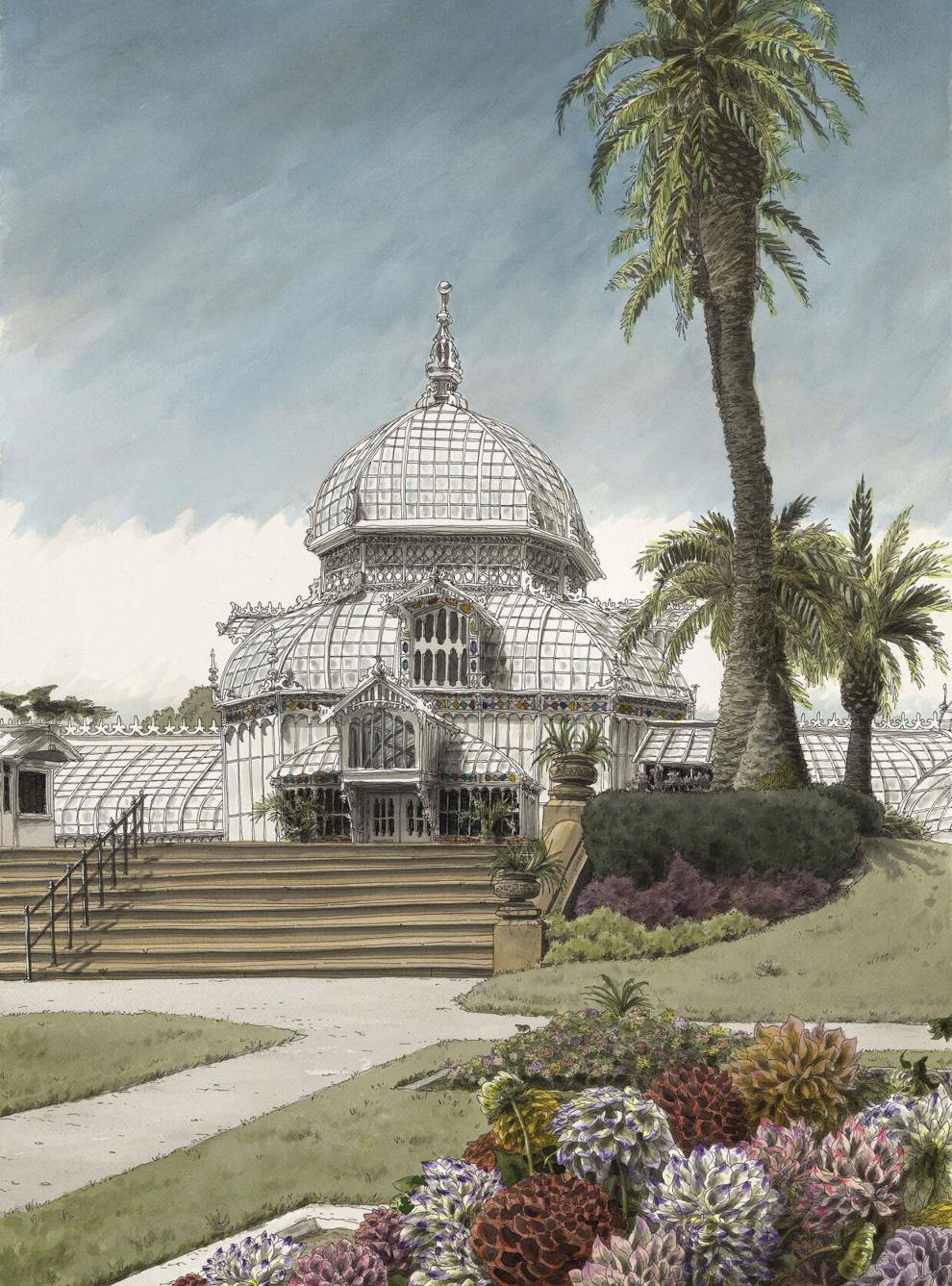 The Conservatory of Flowers is one of San Francisco's crown jewels. The oldest structure in Golden Gate Park and the oldest public greenhouse in California, this 12,000-square-foot masterpiece is a glorious confection of intricate woodwork and 8,000 panes (weighing 33 tons) of flat and curved glass. Its fragile framework has suffered major damage on more than one occasion, most notably in 1995, when it was devastated by a monster storm, but it endures today — a link with the Victorian era and the earliest days of the park.
The San Francisco conservatory came to be thanks to a whim of the extremely wealthy and deeply eccentric James Lick. Lick had acquired two conservatories in kit form, both modeled after the famous 1848 Palm House in London's Kew Gardens. He intended to leave one of them to the city of San Jose. But when he read an article in a local paper criticizing his shabby dress, he changed his mind and left the conservatory crated up. (San Jose got off easy compared to Lick's son. According to ​The Generous Miser, a biography by Lick's great-grandniece, Rosemary Lick, Lick cut his son, John Lick, almost entirely out of his will because the younger Lick had failed to look after his father's parrot, Lennie.)
Hiding in plain sight in the Tenderloin are more than 20 of San Francisco's least-known architectural treasures: the film exchange buildings. 
The most mammoth — and visually stunning — industrial building still standing in San Francisco is the Islais Creek grain terminal on Pier 90. 
In the central plaza of Japan Center stands one of the most striking and unusual structures in San Francisco: the Peace Pagoda. 
Certain buildings are so unexpected, so out of place with their surroundings, that they bring to mind the weird spires known as "fairy chimneys." Like those uncanny rock formations, such buildings are emissaries from another age — time capsules that have miraculously survived.